International Academy for Advanced Oncology (IAAO)
To accelerate cancer research and treatment in Japan, we invite more than 10 world-class experts and opinion leaders in the oncology field to Japan to address the International Academy for Advanced Oncology (IAAO). We provide an opportunity to share cutting-edge information and discussions with leading basic and clinical researchers, and support the construction of a global human network.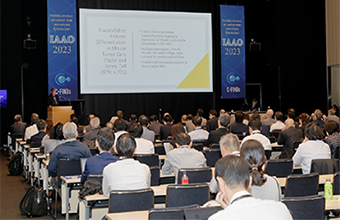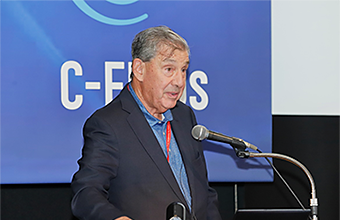 Dr. Chabner, IAAO 2019
IAAO has been held by invitation only annually since 2010 by the former Chugai Academy for Advanced Oncology (CHAAO), which changed its name in 2022 to the Chugai Foundation for Innovative Drug Discovery Science (C-FINDs). IAAO provides innovative cancer research information under the guidance of the advisory board consisting of Japanese and global experts under the leadership of Dr. Bruce Chabner, a global authority on cancer research.
Upcoming: IAAO 2023
IAAO 2023 will be held completely on-site at Roppongi-Academy Hills in Tokyo on July 28–29, 2023. See the current agenda of IAAO 2023 below. Participation is by invitation only, please ask us for details.

Program(PDF)
*July 24 update
The most recent IAAO: IAAO 2022
IAAO 2022, the memorable first event hosted by C-FINDs, was held in a completely online format with Roppongi Academy Hills as the central portal, due to the rapid increase in the number of new incidences of COVID-19. Some overseas speakers and chairpersons came to the venue and gave their presentations in person. All the invitation-only attendees were able to watch the lectures and participate in discussions online.
The main theme of IAAO 2022 was "Trends in Anti-Cancer Strategies with Novel Technologies". In addition to the regular sessions on Cancer Genomics and Molecular Targeting Therapy, we incorporated a Breakthrough Technology session that included valuable lectures on cutting-edge technological innovations, such as the prospects for mRNA-based cancer vaccines and novel diagnostic technology using AI. Furthermore, in a special session Dr. Weinberg, a legendary expert on cancer biology, gave a systematic overview of the new findings on epithelial-mesenchymal transition mechanisms.
Proceedings of IAAO
C-FINDs publishes the Proceedings of IAAO, which are distributed to all physicians, researchers, and others involved in the field of oncology according to their request in order to contribute to the development of cancer research and treatment in Japan.
The Oncology Satellite Forums are held with the aim of promoting the qualitative and quantitative improvement of basic and clinical cancer research at local universities, graduate schools, cancer hospitals and research institutes, and the spread of standard treatment in rural areas in Japan. C-FINDs will invite experts and opinion leaders according to the requested themes to those facilities. C-FINDs will offer screenings of recent IAAO lecture recordings. Contact us for the detail.